DirectAire 4408 Insulated Recessed Inlet
DirectAire 4408 Recessed Curved Inlet Lowers Heating Costs and Improves Bird Performance.
The DirectAire 4408 European Curved Recessed Sidewall Vent has an aerodynamic, curved louver blade that directs fresh air along ceiling to the ceiling peak for effective air mixing and speeds air to the center of even wide poultry houses. It can maintain a 50% greater air velocity 20 feet from vent than conventional metal vents. The DirectAire 4408 actuated air vent delivers more air (cfm) than conventional metal vents and reduces the number of vents needed.
Great for reducing or eliminating bird drafting and saving on heating costs, the DirectAire 4408 European Curved Recessed Vent is fully sealed against air leakage and light. During operation, airflow is directed through vent's top opening rather than leaking out bottom or sides of vent.
Unlike conventional metal wall inlets, DirectAire Sidewall Inlets have a recessed design that effectively pulls warm air from sidewalls 3 feet away and mixes warm air with fresh incoming air, directing mixed tempered air along ceiling to peak of house. DirectAire Actuated Recessed Sidewall Inlets are available in four different sizes and are rodent and corrosion resistant.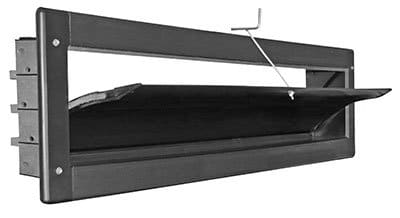 Insulated European Curved
Sidewall Inlet
Part 90553CH
CFM: 1,669 cfm @ .1 SP
Ship Weight: 8.5 lbs
Rough Opening: 44 1/2″ x 8″
Inlet OD: 48″ x 11.25″
120 inlets / pallet
5 inlets / box
Imported
DirectAire 4408 European Sidewall Inlet Shut-off
To install shut-off, screw in shut-off just above flange, close to center of sidewall inlet; avoiding pull cable.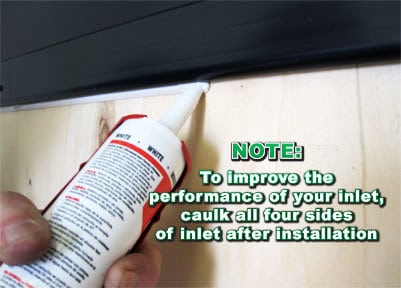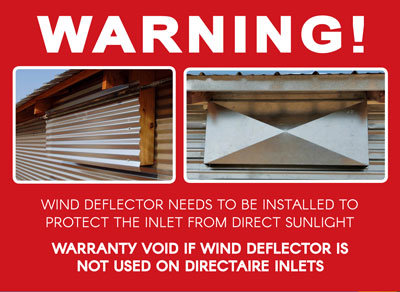 poultry window 8 RetroAire Inlet decrease air or water leakage Custom sizes available
Learn
Made in the USA EcoDrive 300 Designed for expansion and contraction Perimeter gasket system to ensure a good seal between glass and outer frame to improve house tightness and decrease air or water leakage 8 RetroAire Inlet EcoDrive 300 Designed for expansion and contraction Improves poultry house tightness and decreases air or water leakage Heavy-duty multi-walled construction of the panels offer high thermal resistance, giving excellent thermal insulating values while still allowing natural light to enter the house Perimeter gasket system to ensure a good seal between glass and outer frame to improve house tightness and decrease air or water leakage Custom sizes available 8 RetroAire Inlet Perimeter gasket system to ensure a good seal between glass and outer frame to improve house tightness and decrease air or water leakage Custom sizes available EcoDrive 300 Made in the USA Designed for expansion and contraction Poultry Division inlets Poultry Division inlets
Learn
Poultry Division inlets