Hog Excelerator Nursery Floor
Double L's Excelerator Pig and Swine Nursery Floor has been engineered to for long-lasting use with its fully radiused corners eliminating the opportunity for high stress points. Slats are built with virgin polypropylene material creating higher impact resistance and is non-conductive reducing the stress on pigs. The flooring is designed with reinforced cross ribs and an interlocking system allowing for better stability with enhanced strength. 
Excelerator slat flooring is 24″ x 24″ and requires fewer fiberglass support beams than the competition, reducing the cost of installation. The flooring has 7/16″ slot openings that provide 50% open space manure filtration. This equates to a cleaner floor that helps protect animals from bacteria-causing illness.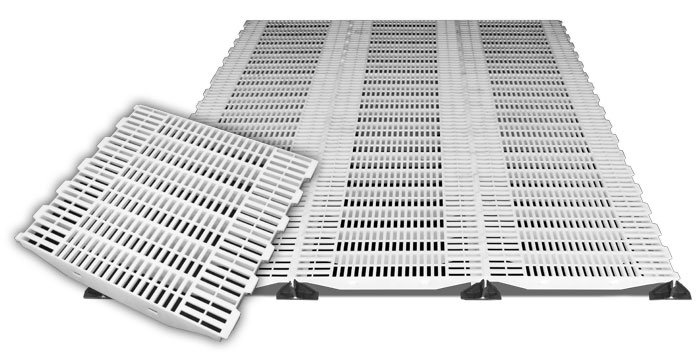 White Part #13125
Black Part #13125-1
24" x 24" (609.6 x 609.6 mm)
Approx. 6 lbs (2.72 kg)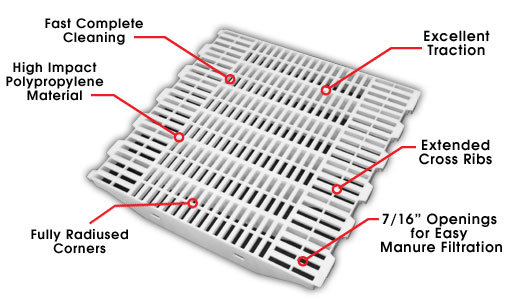 poultry window 8 RetroAire Inlet decrease air or water leakage Custom sizes available
Learn
Made in the USA Designed for expansion and contraction Perimeter gasket system to ensure a good seal between glass and outer frame to improve house tightness and decrease air or water leakage 8 RetroAire Inlet Designed for expansion and contraction Improves poultry house tightness and decreases air or water leakage Heavy-duty multi-walled construction of the panels offer high thermal resistance, giving excellent thermal insulating values while still allowing natural light to enter the house Perimeter gasket system to ensure a good seal between glass and outer frame to improve house tightness and decrease air or water leakage Custom sizes available 8 RetroAire Inlet Perimeter gasket system to ensure a good seal between glass and outer frame to improve house tightness and decrease air or water leakage Custom sizes available Made in the USA Designed for expansion and contraction Poultry Division inlets Poultry Division inlets
Learn
Poultry Division inlets